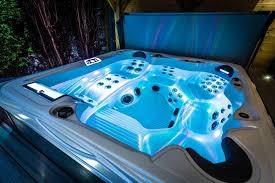 Hawtin Electrical are your local, reliable, and trustworthy Electricians in Oxfordshire.  We are pleased to say we are NICEIC Registered Domestic Part P Installers and are on the Which? Trusted Traders website.
Can you imagine enjoying the summer sun with a cocktail and a bubbly soak?​​​​​​​
With the increasing amount of interest, we get with hot tubs before and during the summer, I thought it would be good to have a quick chat about what is needed from an electrical point of view.  After all there are no bubbles without electric.
What do we need to know as electricians?
Firstly, we would need to visit your property to assess a few things.  The type of incoming supply, and an assessment of the consumer unit to see if there are any spare ways we can use for a new circuit if needed.  The position of the intended hot tub and likely position of the power outlet intended to power the hot tub.  We would also have to measure the length of run for the cable supplying the hot tub.
What type of hot tub?
Well, this bit is up to you and your budget but don't forget to budget for the electrics as well.
Now this bit is vital, with so many different types, sizes and manufacturers each one may have a different power rating due to various extra pumps and other fancy items included. So with this in mind when choosing your hot tub we would need to know the power rating in watts of kW from the manufacturer themselves.
Final connections
When we know all the above, we can decide along with the manufacturer where we are going to connect to their cable.  There are a few options, but again this all depends on which make and model you go with.  Some of the options are set out below in the images.
Some of these may look bulky or obtrusive but do not worry, they can sometimes be installed behind plant pots or bushes.  If the latter is the case just bear in mind that access to them will be needed for future inspections when you have them retested, this is so we can make sure they are still safe for continued use.
On a final note.
As with the latest changes in the regulations all circuits within the domestic household should now have 30mA RCD protection. This is also known as additional protection in the event of failure of basic protection.  This is a must for your safety and the safety of you family.  This protects you in the event of a failure of either the hot tubs itself or the cable supplying it.  If you are discussing electrical work and an RCD is not mentioned by the electrician, then PLEASE STOP.  They will not be able to sign the work off and in some instances can cause potentially dangerous situations.
Why use a NICEIC Part Installer and Which? Trusted trader?
NICEIC Part P Installers are vetted at least once a year by NICEIC assessors with many years of experience in the electrical industry to discuss any updates in the electrical regulations (BS7671) and assess any work carried out by the installer to make sure standards are being kept with regards to how we install your electrics.  They also do an office audit to make sure that our training is up to date and that the insurance we hold is current and of the correct value.  This alone sets us apart from the cowboys.  You can Contact Hawtin Electrical by calling us on 01865 479368.